Are you planning to earn a university degree from the UK? But are you ready to pay ridiculously high tuition fees and land up with a crippling student debt? More and more UK universities are now pushing for increasing their tuition fees and demanding that the limit on tuition fees across England should be lifted. It will allow them to boost the fees in accordance with the inflation over the existing maximum limit of £9,000.
Image Courtesy: bit.ly/1KuA0pI
Rising Tuition Fees In UK
Representing most university leaders, Universities UK claims that the amount of the fees, which have been fixed back in 2012, have been reducing in actual terms. Hence, universities now want to protect the value of tuition fees. Jo Johnson, Universities Minister, has planned to inform UK university leaders that they must enhance the level of education they offer. He will also focus on developing the quality of teaching across different universities as he believes that it must have the same status to ensure the research quality.
Image Courtesy: bit.ly/1IQvgVw
However, university leaders will ask the minister to raise higher education funding. They are currently planning to get the £9,000 cap on tuition fees lifted and boost university funds as they feel there is a strong need for increasing maintenance support for students.
According to the vice president of Universities UK, Janet Beer, the real value of tuition fee was "being eroded considerably by inflation." She said "Allowing the value of the fee to be maintained in real terms is essential to allow universities to continue to deliver a high-quality learning experience for students. Financial support for students' living costs needs to be improved."
How It Will Affect Students
Professor Beer believes that students are getting increasingly concerned regarding the dearth of support while they were studying instead of the rising amount of debt which they need to repay later.
She added "These changes should be made now to ensure universities can continue to provide high quality education that meets the needs of students."
Image Courtesy: bit.ly/1C1BXqo
Moreover, according to reports published by the Office of the Independent Adjudicator (OIA), the most student complaints in 2014 were made against degree classifications and academic grades that were awarded. Issues with finances and the universities comprised of only a small percentage of the problems. There is a significant rise in student complaints as statistics from 2014 reveal that more than two thousand students made complaints, which is almost 3% higher than previous year.
Image Courtesy: bit.ly/1C48Lj6
However, many other experts believe that increasing the tuition fees in UK universities further will affect the abilities of aspiring students to pursue higher education. It will not only result in increasing the amount of student debt, but it might also affect the national economy in the long run. Moreover, the UK government is planning to cut down grants provided to the needy university students. It seems to be even more financially challenging for the learners to pursue UK university programmes.
Megan Dunn, president of the National Union of Students, said "The proportion of graduates unable to pay back student loans is already increasing at such a rate that the Treasury is approaching the point at which it will get zero financial reward from the tripling of tuition fees."
Is It A Smart Idea To Earn A UK university Degree?
If you ask me, the answer is yes! Earning a UK degree can offer you the best job opportunities as they are highly valued worldwide. However, it is imperative that you go for an affordable degree from UK university as it will allow you to study an accredited qualification without feeling the burden of debt. This is where online university programmes come in.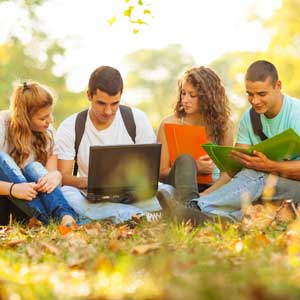 Image Courtesy: bit.ly/1IQwiAF
Online courses are highly affordable and only cost a fraction of what most traditional universities charge. You will be easily able to a recognised degree without spending excessive time or money. Moreover, as online university programmes offer excellent flexibility, convenience and accessibility, you can choose to study from your home and also do a full time day job at the same time.
The Bottom Line
So if you want to earn a UK degree in a flexible and affordable way, the I would suggest that studying an online university course will be the most beneficial for you. You will not only gain essential knowledge and skills, but gain relevant experience as well.
What do you think? Add to the discussion by sharing your thoughts and opinions here.
Content Source: bbc.in/1GQ52RM & bit.ly/1JdTsXm